Yesterday morning I took the son to the airport: together with his classmates and two teachers he will spend a week in London (he really gets to travel! Valence in January, now London …). The program will be tough, one of the teachers told me at the airport. London is not Club Méditerranée and he is not an entertainer. I am not sure those kids were aware of that. And no matter how much fun I had, watching this happy pack of teenagers – hats off to all those who offer, organize and accompany school trips!
Each teenager was allowed to take carry-on luggage, that is to say: one small suitcase each. As a result, the son's mobile phone nearly collapsed on the eve of the journey … He received an unbelievable number of WhatsApp messages on who takes what and why, what is vital (I think that can be summarized with technology and cosmetics) and what not (school supplies) – real drama. Teenagers …
So now he is gone (again). Time to prepare my own trip. In a way, that too feels like a school trip or maybe the first day of school in a new class … Yes, I am little nervous. Or would 'excited' be more to the point? It takes me about 7 hours to go to Herbolzheim, home of Schachenmayr, by train. Travel time that I am looking forward to, no less than to the event to come: A company producing yarns for handknitting since 1822 that I have meant to visit for a long time. Their sock yarn (Regia) is definitely among my favorite yarns, many of the monsters and blankets I have crocheted are made of their cotton yarn (Catania). Both yarns will be in the limelight for two days. Last but not least, I am very much looking forward to getting to know 15 blogger and instagrammers whose profiles might be familiar to me, but not (yet) their faces.
So exciting to be part of #blackforestcrafts!
Hence, last weekend, I finished two projects, to be able to cast on something new on the train. First thing off my needles, was a sweater made of the yarn that once was to become my Birkin. Yarn, I had frogged five times and didn't want to touch again any time soon. What can I say? Andrea Karminrot and her beautiful Afmaeli made me change my mind. I had had the pattern for ages – seeing her wear that sweater made me start mine the very same day.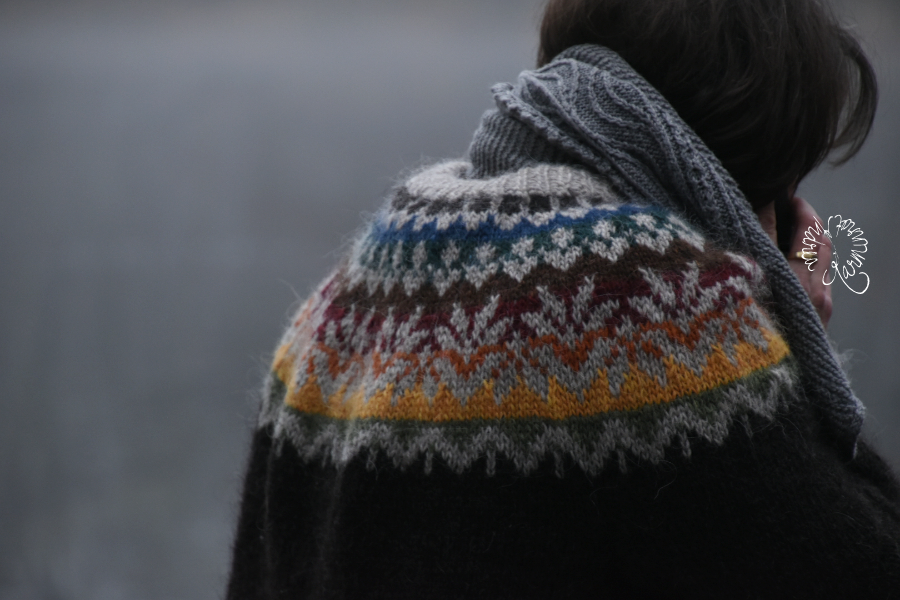 I knit it up in less than two weeks. Now, when I compare both Afmaeli – hers and mine – I am (once more) fascinated how colors make the difference! Two totally different sweaters!
On Sunday, I finished the Color Tipped Scarf (what took me so long?!). It is wide and long and soft and wonderful.
Yes, I could not be happier with the sweater and the scarf. I really need to check the weather forecast. Maybe I'll take both of them along with me when going south.